Welcome To The SYFL California Cowboys Webpage
Congrat's Cowboys!!! You All Did a Wonderful Job the Season!
The California Cowboys Family wishes to thank everyone who helped make our season historic. We started this team from Coach Gary's dream. We're ending our first season in the SYFL on a high note. C.U.R.E. won Community Outreach Program of the Year from "People for Parks" for our continued works in and around Helen Keller park. Because of our efforts the gang violence has dropped to record numbers. families now attend the park and mothers now feel safe enough to trust their children's safety in the parks after school programs.
This is just the beginning. together we plan to offer year round programs as well as mentoring to all children in need. We the members of C.U.R.E. are ready to keep working hard in honor of the children. Please take some time to check out the pictures on this page. we'll update it often so lock us in.
The Holy Days are coming fast so we look forward to you joining us as we make this Thanksgiving and Christmas a joyful blessing for every child in our reach. We plan to make sure each kid gets a Toy. If you care you donate a toy or help with food or drinks for the community dinners please contact us to add your name on the list of C.U.R.E. Angels!
Bless you all for helping me fufill a life long Dream
Coach Gary Robinson
Sign Up Now! Come on out and work out with us!
We now Monday thru Friday 6pm to 8pm at Helen Keller Park. the address is 1045 w. 126th street.Los Angeles Ca. 90044. if your son wishes to join us this season please contact coach Robinson at 323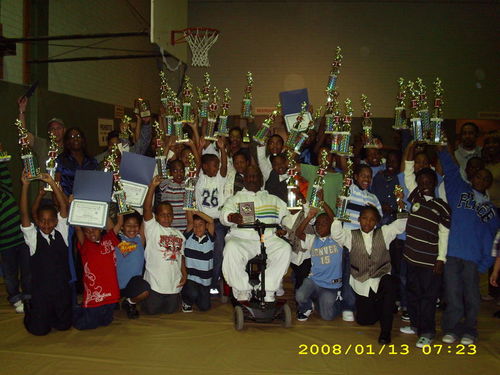 Our proud sponsor Mike Concepcion with the Cowboys!
September 9th 2007 the California Cowboys made history. Our kids won our fo=irst official game of the season. We played and beat the San Pedro Saints 6-0! What felt so good was our fan support and the way the kids played. Words can't describe how happy we all are to be able to not only field a team but to play well. To all our sponsors and supporters we say thank you! for giving us a chance to make a dream come true. Now we're working on our tutoring program for the kids to get help before practice. This is all about P.H.D.
(PRIDE HONOR & DISCIPLINE !)
Thank You to our Special Sponsors !
We wish to thank our sponsors for donating the funds needed to pay for our helmets and pads for the kids to be able to make it in the league. Thank you Julie Coyne and Gary Dartnell for giving the first official funds the Cowboys ever received. This blessing was then matched by Mike Concepcion who helped our kids after Officer Ken Bell shared our story with him. big thanks to you all for giving from your hearts.


We still have important fees and needs to take care of. We also wish to get our official webpage and T shirts going so you can help us with these things.

We plan to make this a special season for the entire community to enjoy.

Please keep in touch with us!

Cameron Bonner

VP of the California Cowboys
Holla If You Feel Me... This is more than just football
As I finish writing this page I can't help but stress how much we're in need of your support. We plan to do so much more then play football. we also plan to build better young men by teaching them the true ways of real men. We have classes that deal with kids who act up. We have help with school work for those who need it. We also pledge to listen to the kids so they can feel deep in their hearts that we love them. We want the best for the kids. And as much as we want to win it all, we'll be just as happy if a mother comes to us and lets us know how better her child is doing in school and at home since joining the Cowboys. This is for the Kids! we want to give these babies a chance to grow up and live without the fear of gangs and gang violence. This is a blessing that's time has come. I thank God for letting me step up and right some of the wrongs I helped create. Thank you Heavenly Father for blessing me with the desire to help the kids. I honor your name in all works that I'm able to do. Thank you for allowing me to dream good things and then allow me to work to see them come true. And lastly I honor your name for giving me a chance to show my family the good inside my heart.
Thank You
Coach Gary Robinson
California Cowboys
C.U.R.E. is working to bring peace among our communities.
Common Unity Reaching Everyone wishes to have your support for the Cowboys. We stand together as we continue to bring programs to the inner city that provide our youth's to see a better way to live. We the members of C.U.R.E. take pride in doing this work. We look forward to meeting problems where they are and finding solutions that help. Helen Keller Park is our model of what a community can do to make things better. We need your support as we pledge to share our program with other needy communities. You can call us to come speak to your classes, after school programs or anywhere else you feel we may be needed. thank you for coming to this page. keep checking back with us!
Shonda Robinson, President of the California Cowboys

(323) cell
email shonda36cure@yahoo.com/